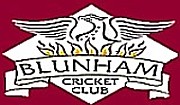 ...
SPONSORING THIS WEBSITE- HELPING THE CLUB

The Blunham Cricket Club website is visted hundreds of times by people every week. A sponsorship logo and link to the sponsor's company website is guaranteed to be seen by those who visit the club website and will automatically associate the sponsor's company with this very successful cricket club.

All amounts raised by sponsorship of this club website go directly to Blunham Cricket Club, (with no deductions),
Sponsors will be directly contributing to Blunham Cricket Club, as well as having their company name promoted very visibly to the many hundreds of people who visit this website.

HOW DO I SPONSOR THE BLUNHAM CRICKET CLUB WEBSITE ?

Applications to sponsor the Blunham Cricket Club website or applications to advertise on this website, for the 2012 season, can now be submitted to the club webmaster, Steve Harris.

For the 2012 season (from time of sponsorship inception, through to 31st December 2012), a sponsorship logo on the main homepage of the website (170 X 100 pixels), with a direct link to the sponsor's own company website, will cost £250. For the sponsor's logo to appear on additional pages within the website will cost £50 per page. Any company or organisation wishing to advertise on this website (beyond the 170 X 100 pixel hoarding on the pages), will need to contact the webmaster to discuss the extent, size and content of such advertising. Advertising on this site by any company or organisation, will cost a minimum of £250 per annum. We do urge local companies to consider this means of not only promoting your company, but also to provide Blunham Cricket Club with the funds it badly needs in 2012 to develop the senior and youth areas of the club.